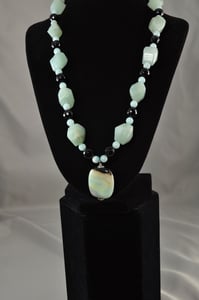 $

45.00
Amazonite stone is green, blue-green in color with white variations. It is mined in Russia, Madagascar and in Pikes Peak, Colorado. Amazonite is a semi-precious gemstone used to protect against Electronic Magnetic Frequencies (EMF's) along with healing properties include the nervous system and brain. It is also known as the hope stone because it inspires confidence and hope.
Single stranded necklace with varying hues of blueish-green gemstone beads. Scroll thru each picture to capture all photo views of the various necklaces
Jewelry measurements:
Necklace is "matinee length" measuring (20-24") to fall on the neckline to capture bold, eye-catching for simplicity or classic looks.
your wrist size.
Matching bracelet and/or earrings can be made to accompany any necklace of choice.
Thank you for stopping by to visit The Jewelry Bee~~~